SwireTHRIVE – Waste
Turn today's waste into
tomorrow's resource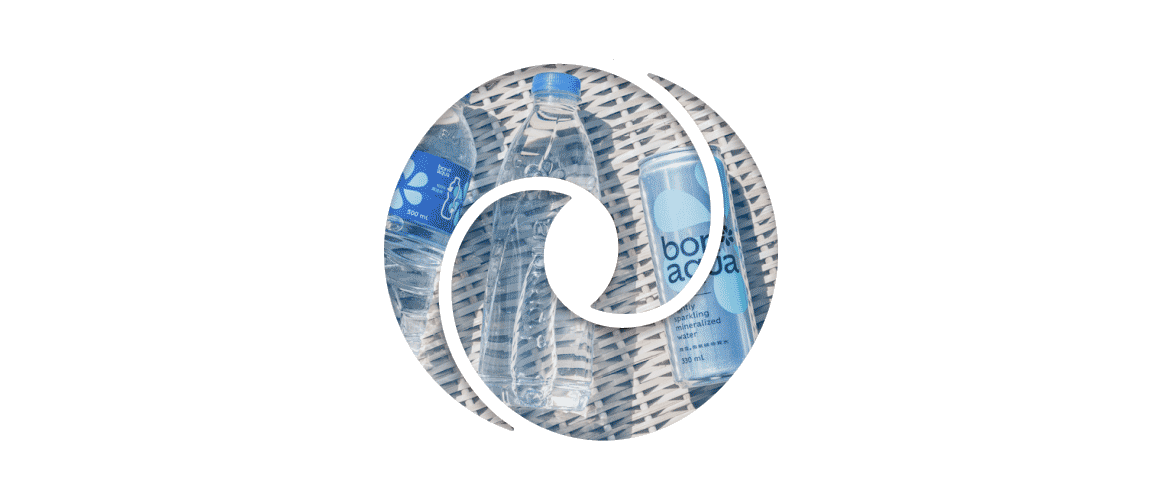 Group waste footprint 2021
As the world's population and affluence increases, so does waste. Landfills are reaching capacity. States are imposing regulations and financial penalties aimed at curbing waste generation. There is growing public awareness of recycling and the need for responsible disposal of materials. This is particularly true for plastics.
By reducing and recycling our waste we lower the cost of packaging, waste management and disposal, and potentially create new revenue streams. We aim to turn today's waste into a resource for tomorrow and to contribute to the creation of a circular economy. As a Group, we have set a goal of sending zero waste to landfill by 2050.
Our Waste Management Policy sets out the Group's approach to managing and reducing waste across its operations. This is what we do:
Promote recycling, reuse and recovery in order to divert as much waste as possible from landfill 
Manage hazardous and potentially hazardous waste in an appropriate, responsible and transparent manner
Reduce the impact of our beverage packaging
Explore opportunities to contribute to the circular economy
Waste management is not possible without collaboration. Opportunities need to be taken to design out waste, to reduce the use of resources and materials used can easily be recycled. Using recycled materials, instead of virgin materials, creates demand for recovery and recycling. It also reduces carbon emissions. The ability to recycle is affected by local policies and infrastructure. We support the Hong Kong government's municipal solid waste charging scheme and the implementation of producer responsibility schemes in our markets. We work with others to reduce waste in our operations and to promote a circular economy. The management and use of waste can provide business opportunities.
Total waste generated by division 2021
(tonnes)
Total waste generated by division 2021
(tonnes)
| 2021 | Non-hazardous waste disposed | Hazardous waste disposed | Non-hazardous waste recycled | Hazardous waste recycled | Non-hazardous waste reused | Non-hazardous waste recovered |
| --- | --- | --- | --- | --- | --- | --- |
| Property | 32,167 | 0 | 12,311 | 11 | 62 | 613 |
| Beverages | 3,613 | 228 | 21,272 | 5,243 | 0 | 4,718 |
| Aviation | 3,156 | 1,105 | 1,135 | 106 | 0 | 1,082 |
| Trading & Industrial | 30 | 202 | 600 | 46 | 284 | 0 |
| Marine Services | 0 | 1,125 | 118 | 1 | 0 | 0 |
In 2021, the Group generated a total of 89,227 tonnes of waste, 12% more than in 2020. Of this, 81,161 tonnes (91%) was non-hazardous waste and 8,067 tonnes (9%) was hazardous waste. Overall, 53% of the total waste generated by the Group in 2021 was recycled, reused or recovered.
Our Property and Beverages divisions accounted for 56% and 33% of the Group's total non-hazardous waste in 2021 respectively.
Swire Properties' commercial waste diversion rates for its Hong Kong and Chinese Mainland portfolios were 23.6% and 41.6% in 2021 respectively. Tenants in Hong Kong and the Chinese Mainland were encouraged to reduce and recycle waste. Swire Coca-Cola's waste diversion rate was 88% in 2021, compared to a 79% in 2020. HAECO's waste diversion rate increased primarily due to the improved waste recycling strategies for wood and metal, and adoption of waste-to-energy in parts of its Chinese Mainland operations. The 43% increase in waste generated by the Trading & Industrial Division is primarily due to improved data collection.
By 2030, we target for 65% of our waste to be diverted from landfill. The target covers non-hazardous waste generated by Swire Properties, Swire Coca-Cola and HAECO, which together made up 98.7% of the Group's total waste footprint in 2021. Hazardous waste is not included in the target. It is treated in line with local regulations.
Subsidiaries covered by our target diverted 51% of their waste from landfill in 2021, an improvement from 44% in 2020.
The easiest way to reduce waste is not to use single-use materials and packaging, where possible. We collect data about our waste. We encourage employees and customers to minimise waste. We try to take account of waste prevention when we design and buy things.
In 2021, our waste working group developed an internal handbook on single-use plastics. It provides subsidiaries with information about different types of plastics and alternative materials, and guidance to inform procurement decisions, including the need to consider whether the material can be recycled or composted, whether local recycling infrastructure exists to ensure it is recycled, and whether there is market demand for the recycled material, which would facilitate its collection and recycling. The handbook was shared with members of our supply chain working group.
Swire Properties' waste management policy deals with the design, planning, construction and operation of its buildings. It evaluates the management of resources, analyses information about waste and tries to promote the circular economy.
Tenants and other building users generate over 90% of the waste generated in Swire Properties' offices and shops. Engaging with tenants is critical to reducing waste. Swire Properties collects data about more than 20 types of waste produced by tenants, hotel guests and serviced apartment occupants.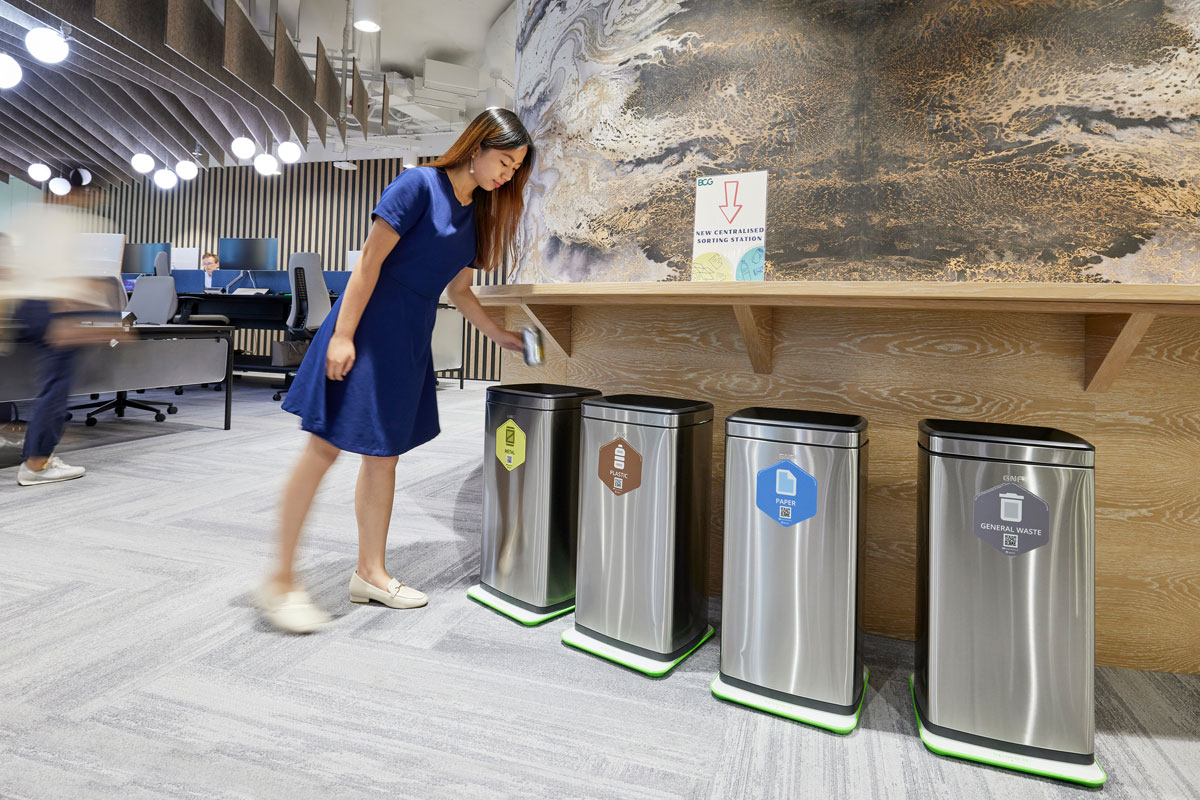 Swire Properties – Engaging employees and tenants with smart waste technology
In 2021, Swire Properties launched its Smart Waste Reduction Challenge. Smart scales and a digital engagement platform are used to encourage employees and tenants to reduce waste. Participants could track their performance in real-time and benchmark their progress against other teams. Online and offline engagement activities were organised.
The six-month challenge engaged 3,400 employees from ten office tenants in Taikoo Place, Pacific Place and Citygate and Swire Properties' own offices. The overall waste diversion rate achieved was 41% and waste per employee was reduced by 14%.
This project was funded by the Swire Pacific Sustainable Development Fund.
In 2021, Swire Properties expanded its smart reusable cup concept and network at Taikoo Place. In partnership with a start-up company, the initiative enabled customers to borrow and return reusable cups at a total of eight food and beverages outlets across the portfolio. Cups are washed and sanitised at a Swire Hotels outlet, fully "closing the loop" within the Taikoo Place. Since its launch, the system has helped avoid the disposal of over 12,000 single-use coffee cups.
Swire Hotels:
Retrofitted over 800 rooms at EAST Hong Kong, EAST Beijing and the Upper House with an in-room water filtration system to phase out plastic water bottles
Made check-in and check-out processes completely paperless at East Beijing
Introduced a digital menu at EAST Hong Kong which can reduce about 70% of menu paper usage
Swire Resources supports the Hong Kong Green Building Council's Green Shop Alliance Programme. It avoids excessive promotional decoration and packaging. Since 2020, it has encouraged customers to bring their own bags on its "No Shopping Bag Day". It will donate HK$ 0.50 to an environmental NGO for every bag-free transaction on the second Tuesday of each month. It will also donate all shopping bag levies collected on that day. Swire Resources introduced reusable nets to replace single use plastic wrap used in moving goods inside its warehouse.
We collect and sort different types of waste and work closely with recycling partners to provide credible outlets for the recyclables we collect.
In 2021, we developed Group standards for waste separation at source. They require the provision of separate receptacles for five main categories of waste: paper, metals, plastic bottles, general plastics and general waste. Glass and food receptacles should be placed at strategic locations, where appropriate. Guidance on the density and placement of receptacles is provided. Three types of facilities are covered by the standards, including:
Customer facing operations including shopping malls and hotels
Non-customer facing operations including our offices, warehouses and factories
Premises let to third parties (tenants)
We have started to implement the standard in Hong Kong, where we aim for full adoption in 2022. Having a consistent approach across the Group will prepare us for the city's upcoming municipal solid waste charging scheme and support materials supply to Swire Coca-Cola's recycling joint venture New Life Plastics. We engage our waste contractors and landlords to send collected material to recycling facilities.
Swire Coca-Cola aims to send no waste to landfill or incineration from its core operations by 2025 and for co-packers by 2030. This does not include waste generated from finished goods. In 2021, it prepared a detailed whitepaper to facilitate the delivery of its 2025 waste target.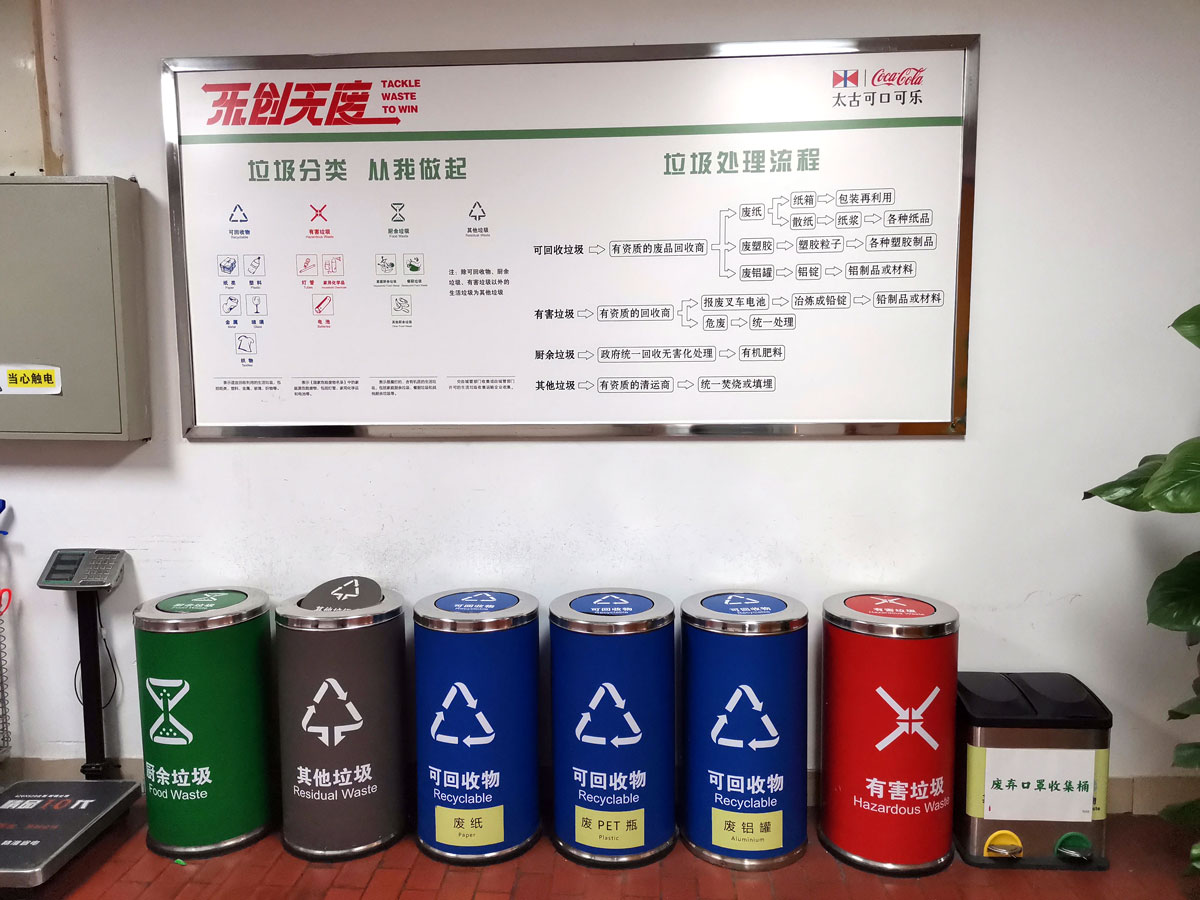 Swire Coca-Cola - Whitepaper on Zero Waste
Swire Coca-Cola undertook a comprehensive review of its total waste footprint and sources of waste across its operations, which identified existing gaps and investments needed to achieve zero waste to landfill or incineration in its core operations by 2025.
The study made 37 recommendations to improve waste diversion across ten waste categories, including:
Enhance waste measurement and reporting
Minimise sources of non-recyclable waste at manufacturing sites and distribution centres
Work with local authorities to address the lack of treatment facilities and economic incentives for certain processing waste
Manage the environmental performance of downstream recyclers for cold drink equipment and other waste
A five-year plan was developed. Swire Coca-Cola will seek external verification of zero waste at all manufacturing sites and selected distribution centres.
Swire Properties diverted 23.6% of its commercial waste, 84.5% of its construction waste and 94.6% of its demolition waste in Hong Kong in 2021. In the Chinese Mainland, it diverted 41.6% of its commercial waste, and up to 84.5% of its construction waste.
In September, the company relaunched the "Save Your Plastics" campaign at Starstreet Precinct. The campaign offered lifestyle and F&B rewards to encourage people to recycle their cleaned and emptied plastics. The recycling pop-up collected over 500kg of plastics from 700 members of the community over a three-week period.
Old bed linen at Swire Hotels is used as cleaning cloths or donated to design students for upcycling. Lightly used linen and towels, and unused or partially used soap, bodywashes, lotions and hair products, are given to disaster relief and humanitarian aid organisations.
In 2021, HAECO utilised inverters and portable devices to collect the residual energy from aircraft batteries due to be discharged. This energy can be used to power aircraft system test equipment or charge portable power sources used in aircraft maintenance in outside-hangar areas with limited access to a fixed power supply. Energy salvaged is estimated to provide over 109,000 Ah battery capacity per year. HAECO Hong Kong segregates waste and sends waste wood to a recycler. 179 tonnes of wood were recycled in 2021. It also sends waste lead acid batteries to specialised recyclers.
Working with NGOs, Swire Resources recycles Chinese New Year red packets, old books, clothes and electronic waste.
In 2021, Swire Properties, Swire Coca-Cola Hong Kong and HAECO Hong Kong sent 1,352 tonnes of food waste and organic by-products to an organic resource recovery centre (ORRC) for conversion into compost and biogas.
Swire Properties collected more than 9,200 tonnes of food waste from its Hong Kong and Chinese Mainland portfolios and its hotels. At Citygate Outlets, Cityplaza, Island Place Mall, Pacific Place and Taikoo Place in Hong Kong, 70% of F&B tenants recycled food waste. Efforts to engage its tenants in waste recycling initiatives have resulted in a 30% increase of the number of tenanted office floors recycling food waste compared to 2020. The majority of food waste collected in Hong Kong is sent to the ORRC. Some properties also have food waste digesters.
EAST Hong Kong partnered with a local brewery to turn 30kg of surplus bread from its restaurants into its own branded craft beer.
Swire Pacific Offshore has a sustainable ship recycling policy. It states that all vessels at the end of their working lives will be recycled at shipyards certified by a reputable independent third party. This is in compliance with the Hong Kong International Convention for the Safe and Environmentally Sound Recycling of Ships. Over the past 10 years four ships were responsibly recycled at the end of their economic lives without any safety or environmental pollution incidents. The recycling process was independently overseen and audited.
Swire Coca-Cola does not control what happens to its packaging after consumption. But it wants to transform the way waste is dealt with and to promote a circular economy. It supports the Ellen MacArthur New Plastics Economy Global Commitment and The Coca-Cola Company's World Without Waste goals. This is what it does.
Reduces single use packaging as much as possible by cutting its amount and weight and by using refill stations
Redesigns packaging so that it is easy to recycle, has value when recycled and itself includes recycled materials
Facilitates better recovery of packaging by clear labelling and disposal instructions
Recycles packaging materials into the highest value end-products as possible
Collaborates with government, industry, waste management companies and non-profit organisations to promote the transition to a circular model
Swire Coca-Cola reduces the amount of plastic used in its packaging of bottled brands. In 2021, this saved 73 tonnes of resin. In Hong Kong, it intends to install 300 water stations, so as to save an estimated 20 tonnes of plastic per year. Around 160 water stations have been installed at strategic locations around the city.
Swire Coca-Cola's goal is for 100% of its primary packaging to be technically recyclable by 2025. It will stop selling Aquarius powder in non-recyclable aluminium pouches in Hong Kong, because they are not recyclable. Its Sprite and Schweppes bottles are being changed to colourless bottles. They are worth more and easier to recycle than coloured bottles. By 2030, Swire Coca-Cola aims for its primary packaging to contain 50% recycled material. In 2021, it started to offer 600ml sparkling drinks packaged in 25% recycled PET (rPET) in Hong Kong.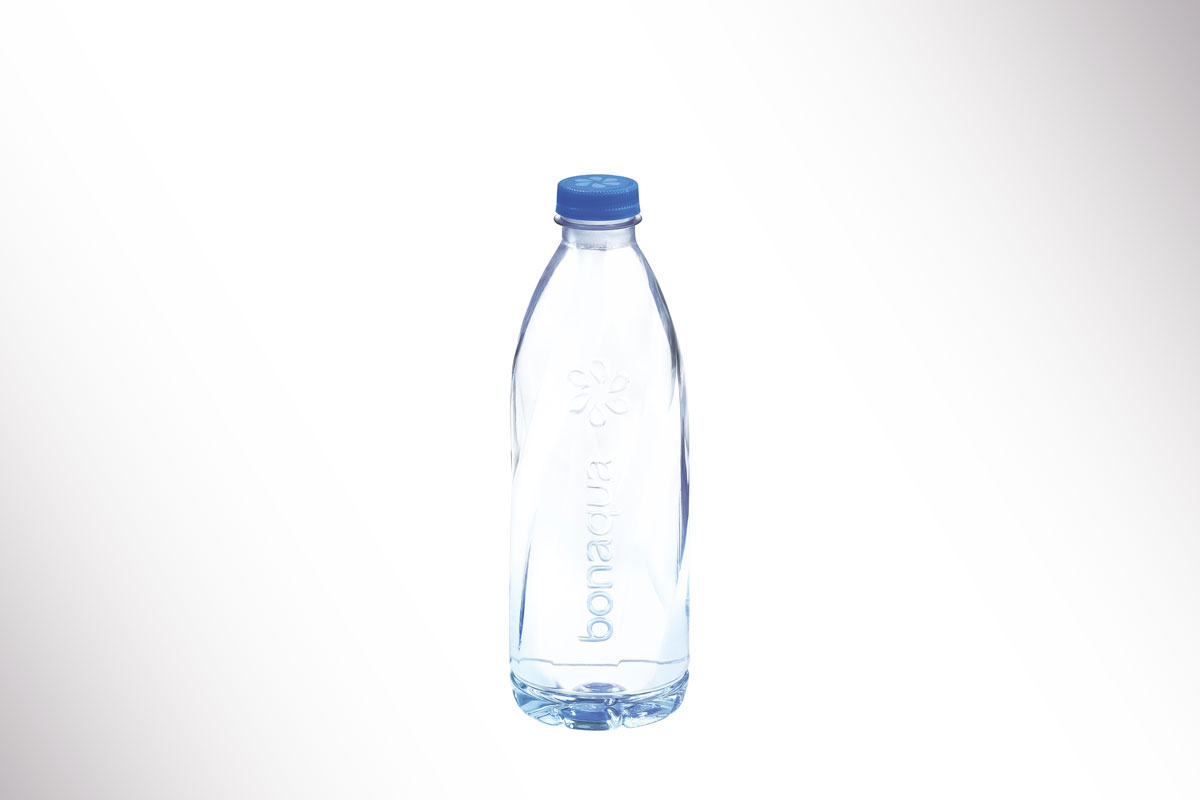 Swire Coca-Cola – First label-less and fully recyclable bottle in Hong Kong
Swire Coca-Cola launched its first locally produced label-less Bonaqua bottle in Hong Kong. The bottle comprises of 100% recycled PET and is fully recyclable. The new design improves recycling efficiency by eliminating one type of packaging material, but still including clear information about the resin types to facilitate their proper recycling.
In line with The Coca-Cola Company's (TCCC) World Without Waste targets, Swire Coca-Cola has committed to collect and recycle one bottle or can for every one it sells. With TCCC, it is working to put recycling instructions on its drinks labels. It has formed a joint venture with ALBA Group Asia Limited and Baguio Waste Management & Recycling Limited to build and operate New Life Plastics, Hong Kong's first food-grade ready plastics recycling facility. It will be able to process around 35,000 metric tonnes of PET and HDPE annually, turning the waste into reusable raw materials for consumer and industrial products.
Swire Coca-Cola has installed 10 reverse vending machines (RVMs) in Hong Kong. Each bottle returned to a RVM entitles the returner to a HK$ 0.10 cash rebate via an Octopus card.  Bottles are cleaned, compressed and collected by authorised recyclers.  Through this scheme, Swire Coca-Cola aims to increase consumer awareness of recycling. It donates HK$ 0.10 per bottle returned to environmental protection education. Over 4 million bottles had been collected by the end of 2021.
Swire Coca-Cola works with other parties in the waste value chain. In Hong Kong, Swire Coca-Cola helped to establish Drink Without Waste (DWW), a coalition of NGOs, beverage producers and bottlers, retailers and companies in the waste business. The aim is to reduce the amount of beverage waste and the amount of soft drink packaging going to landfills.
In 2021, DWW launched a pilot Neighbourhood Bottle Rewards Scheme with support from partners and the HKSAR Government's Recycling Fund. The scheme aimed to develop a cost-efficient collection and return network for beverage bottles by recognising the role of informal collectors and recycling shops, whilst boosting collection and recycling rates and building capacity and trust in the local recycling chain. 50 million bottles were collected. Insights gained from the pilot informed policy recommendations for the future Producer Responsibility Scheme.
Elsewhere, Swire Coca-Cola is:
Working with the governments in Colorado and Washington on a deposit return scheme and extended producer responsibility systems to increase capture rates of post-consumer material.
Supporting the China Beverage Industry Association's research on post consumed bottles and sharing knowledge with other bottlers.
Collaborating with the National Food and Fermentation Institute to facilitate the use of recycled aluminium from used beverage cans in the Chinese Mainland.
For more information, please see Swire Coca-Cola's sustainable development report.